Handonheartjewellery
Engraved Handprint Or Footprint Round Charm Necklace With Angel Wing Charm
The perfect way to keep your loved one close to your heart wherever you go, this necklace combines a stunning personalised sterling silver disc with a beautiful angel wing charm. The disc is engraved with a hand or footprint and can have a special message, name or date on the reverse. We can use prints which you already have or you can request a free Magic Printing Kit when you place your order. This beautiful necklace is from our Engraved Range which means that the prints are engraved onto the surface of the pendant and comes with a 12-month no-fade guarantee.Your finished piece of Jewellery will come beautifully presented in a Hand on Heart Jewellery Box and delivered to your door.
Material: Sterling Silver
Charm Size: 
Circle - Approx 18mm
Angel Wing - Approx W6mm x H17mm
Chain: 16-18" Adjustable belcher chain
Packaging: Luxury Hand on Heart Jewellery Gift Box
When you complete your order, we'll ask you how you would like to supply us with the prints. If you don't have the prints, we can provide a FREE print kit if selected with your order. The kit is very simple and involves wiping a special wipe over the selected area and pressing onto the paper included in the pack. There's no ink, putty or mess involved and the whole process takes just seconds.
Once you have taken the prints, or if you already have a copy of the prints, simply take a photo and upload them using our Magic Print Uploader - A link will be sent to you after you order.
If you're a returning customer we will ask you to provide us with the previous order number so that we can use the prints on file.
Customer Reviews
Write a Review
Ask a Question
18/09/2020
Janine C.
United Kingdom
Engraved necklace
So fast & amazing service. I wasn't sure the print would be made out due to it being it my stillborn baby girls. But it was captured perfectly. Thank you so much. X
03/09/2020
Fiona E.
United Kingdom
12/07/2020
Catriona B.
United Kingdom
In memory of my angel baby
A few weeks ago, I sadly had to terminate my pregnancy on specialist advice due to the fetus becoming progressively unlikely to survive. We were able to hold our baby and have some prints taken to put in a little memory box. I wanted a way to carry my baby with me, and found this website. My mother very kindly offered to pay for it to be made. This item is exactly what I wanted, the print is identical to the photo sent and the angel wing makes it feel so perfect. The care and attention to detail have not gone unnoticed, this is a quality piece. As our baby was only 16 weeks in utero, we did not have a name but I followed my order with a message asking this to be replaced with a date - I got a quick response and the item received was exactly as I had expected. This necklace brings me comfort in dark times and I will never take it off, thank you so much.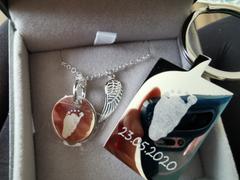 07/08/2020
Hand on Heart Jewellery
Thank you for your extremely kind feedback. Here at Hand on Heart, we pride ourselves on providing our customers with the very best customer service and high-quality products and so it really is wonderful to hear how delighted you are with our service. Although it is the saddest of circumstances, we are pleased to have been able to create you an extremely precious keepsake in loving memory of your baby, which we hope will bring some comfort following your loss <3 Kind regards, Team HoH x
15/06/2020
Debbie T.
Ireland
Absolutely gorgeous
I am so happy with it, the print is a perfect replica of our babies foot, its very special to us and we are so grateful it came out so well.
26/02/2020
Gillian H.
United Kingdom
A secret purchase for a friend
I knew exactly what I wanted and whom it would be for. This beautiful jewellery caught my interest in a flash. It wasnt going to an easy task as the foot print I had to use was from my friends angel child of a few years. She always mentions him and always does special things on his anniversary and birthday. I was so humbled when one evening she brought out her babies memory box. From that moment I knew I had to do something for her that noone else had thought of. It wasnt easy getting a picture of his tiny footprint but you all were so nice to me when I e-mailed you the print and explained my position. You kept in touch with me and even guided me to get the best possible clear picture that could be worked with. I was over whelmed when you contacted me informing me that you had manage to get a detailed picture that could be engraved. Thank you for putting up with my lack of technical knowledge lol The day the necklace arrived I had tummy ache opening it....... I couldn't stop smiling and crying happy tears. It was beautiful , more than words can say. I could not wait to hand the surprise over to it rightful owner. There was no special occasion pending no birthday but it did not need to be. I was so excited handing my friend the box over. Her expression was magical then when she found the inscription on the back brought tears. So many of us have lost children including myself but I never had a memory box no picture no footprint. My son died in theatre at 14months of age I gave over my son and never got him back. Doing this for a friend she can always have her son close with her always. What a wonderful gift. Lovely workmanship personal service, and an amazing end result. Happy tears from a very sad time are what you all made and I thankyou all so very much. I know this is long but I had to share the story. You dont need to print it. It felt great for me to give such a beautiful gift. Just wished I could have had something too. Xxxxxxx
11/03/2020
Hand on Heart Jewellery
Thank you so much for taking the time to write to us with this wonderful feedback, it really is an honour to be able to create such special pieces of jewellery and we are truly thankful that you chose Team HoH to create such a treasured gift for your friend in loving memory of her Son <3 We are all delighted to hear how pleased you and your friend both were with the service we were able to offer and the finished necklace. Please do not hesitate to get in touch if we can ever be of any assistance in the future, Kind Regards, Team HoH x