Handonheartjewellery
Memorial Fingerprint Round Necklace
Keep those who are no longer here close with this Round Necklace, featuring the true fingerprint of your loved one. The necklace features a round sterling silver charm, imprinted with the full fingerprint supplied. You can supply us with prints that you may already have, or request a free Magic Printing Kit when you order if required. This necklace is from our Premium Imprint Range which means that the prints are imprinted into the silver rather than engraved onto the surface. This design comes with a lifetime no-fade guarantee ensuring that your piece will last a lifetime if looked after. Your finished piece of Jewellery will come beautifully presented in a Hand on Heart Jewellery Box and delivered to your door.
Material: Sterling Silver
Charm Size: Approx W15mm x H15mm
Chain: 16-18" Adjustable belcher chain
Packaging: Luxury Hand on Heart Jewellery Gift Box
The full fingerprint is used on this piece, and the amount of detail that is seen on the jewellery will vary depending on the fingerprint supplied.
When you complete your order, we'll ask you how you would like to supply us with the prints. You can either use prints that you may already have, or we will provide a Free print kit if selected with your order. The kit is very simple and involves a special ink strip to take the fingerprint. There's no putty involved and the process takes just seconds. Return your fingerprint to us using the free return envelope provided with the fingerprint kit.
Once we receive your prints, we will keep you updated on the progress of your order. If you're a returning customer we will ask you to provide us with the previous order number so that we can use the prints on file.
Customer Reviews
Write a Review
Ask a Question
04/03/2020
Amber G.
United Kingdom
Fingerprint necklace
What an amazing service. I was scared to send off my grandfathers prints because I was being silly about letting them go. I was reassured and told I could email a picture instead. The necklace is beautiful and I will treasure it forever. Thanks for such a beautiful necklace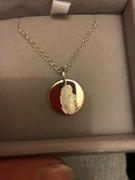 26/03/2020
Hand on Heart Jewellery
Thank you for choosing us to create such a very special piece of jewellery. It was a pleasure to create something which means so much and we are all delighted to hear how happy you are with your unique keepsake. Although in the saddest of circumstances, we hope that this jewellery brings some comfort. Team HoH x
05/02/2020
Philip H.
United Kingdom
Very happy with this product
The whole experience was great. Good communication from the staff regarding what was needed and timeframe for receipt.
18/02/2020
Hand on Heart Jewellery
Thank you so much for this wonderful feedback, we are so pleased to hear how happy you were with your Hand on Heart Jewellery experience. Kind Regards, Team HoH x
30/11/2019
sheila B.
United Kingdom
Perfect
Beautiful piece of jewellery
05/12/2019
Hand on Heart Jewellery
Thank you so much for your kind feedback :) Merry Christmas, Team HoH x