Handonheartjewellery
Handprint Or Footprint Small Heart Necklace, Two Prints And One Name
Created to keep your loved one close, this beautiful Small Heart Necklace is crafted using your loved one's Hand and Footprints. Made from sterling silver this lovely necklace is imprinted with two prints and a name on the front and personal message on the reverse. Taking the prints couldn't be easier with our Magic Printing Kit sent to you free when you order, or we can use a copy of prints that you may already have. This necklace is from our Premium Imprint Range which means that the prints are imprinted into the silver rather than engraved onto the surface. This design comes with a lifetime no-fade guarantee ensuring that your piece will last a lifetime if looked after. Your finished piece of Jewellery will come beautifully presented in a Hand on Heart Jewellery Box and delivered to your door.
Material: Sterling Silver
Charm Size: Approx W17mm x H15mm
Chain: 16-18" Adjustable belcher chain
Packaging: Luxury Hand on Heart Gift Box and a copy of the original prints used to create your design
When you complete your order, we'll ask you how you would like to supply us with the prints. If you don't have the prints, we can provide a FREE print kit if selected with your order. The kit is very simple and involves wiping a special wipe over the selected area and pressing onto the paper included in the pack. There's no ink, putty or mess involved and the whole process takes just seconds.
Once you have taken the prints, or if you already have a copy of the prints, simply take a photo and upload them using our Magic Print Uploader - A link will be sent to you after you order.
If you're a returning customer we will ask you to provide us with the previous order number so that we can use the prints on file.
Standard Design Service: Order today and this design will be delivered within 14 days from us receiving your usable prints/artwork.
In a rush? An express 7 day design and delivery service is available to most mainland UK addresses. This service is chargeable (cost displayed at checkout). 
Hand, Foot, Paw and Fingerprint Designs: If you require a printing kit to take the prints, this will be delivered to you within 5 working days from placing your order. 
Customer Reviews
06/11/2019
lee c.
United Kingdom
Amazing
Fantastic piece of jewellery, I was amazed by how much detail are in the prints when they are so small. Would recommend getting and extra print kit if you have a very young baby, to give yourself chance to get the best prints.
06/11/2019
Hand on Heart Jewellery
Thank you so much for taking the time to leave this lovely feedback, it is hugely appreciated. We are over the moon to hear how happy you are with your unique necklace. Kind Regards, Team HoH x
10/08/2019
Kelly B.
United Kingdom
The best necklace
Amazing necklace and quality. I can see the little details that make the hand and foot prints unique. Thank you to jess, the designer. This necklace was a birthday gift from my sister after the birth of my baby boy.
14/08/2019
Hand on Heart Jewellery
Congratulations from Team HoH on your new arrival :) And thank you so much for taking the time to write to us with this lovely feedback, we will be sure that it is passed on to Jess <3 Kind Regards, Team HoH x
06/08/2019
claire b.
United Kingdom
Absolutely LOVE it
Easy from start to finish and absolutely love my necklace - have been looking at them for a while and so glad I finally ordered one. HoH are fab, will use again!!! Thank you so much it really is beautiful :-D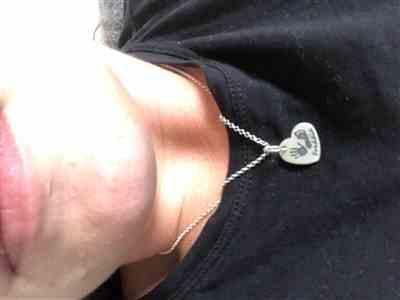 08/08/2019
Hand on Heart Jewellery
You are so very welcome :) Thank you for your kind feedback and for sharing this photo of your beautiful necklace! We look forward to welcoming you back in the future Kind Regards, Team HoH x
28/07/2019
Jenny J.
United Kingdom
Excellent!
Very happy with my necklace. Customer service was excellent too.
06/08/2019
Hand on Heart Jewellery
Here at Hand on Heart, we pride ourselves on providing our customers with the very best customer service and so it really is great to hear how delighted you are with our service. Kind Regards, Team HoH x
11/07/2019
May F.
United Kingdom
Wonderfully made!
The overall experience from my order, to order correction, the deisgn, to receiving my necklaces was very positive and professional. I am very happy with my keepsake necklaces and would highly recommend this to anyone.
11/07/2019
Hand on Heart Jewellery
The best possible review we could receive is that our customers have had a great experience with ourselves and so your feedback is hugely appreciated :) Each and every order really is created with great care and consideration and so it really is lovely to hear this is seen by our valued customers. Kind Regards, Team HoH x