Hand on Heart Jewellery
Family Necklace, Two Handprint or Footprint Charms
Carry a memento of your loved ones close to your heart at all times with this beautiful sterling silver Hand on Heart Family Necklace. We engrave each charm with the handprint, footprint or fingerprint* of your loved one, working from prints of any age and any size. The reverse side of each charm can be engraved with a name. This charm necklace is the ideal way to celebrate your growing family, as you can add further charms with every new addition or milestone.
You can choose to supply us with prints you may already have or we can send you our Magic Printing Kit to use at home. Once you've returned your prints to us, we miniaturise them whilst preserving even the finest details, before they are etched into your charm.
Crafted from the highest quality sterling silver, this family necklace is the ideal way to start your Hand on Heart jewellery collection, which can grow with you over time. Whether it's to welcome and celebrate a new arrival or to mark a milestone birthday, this elegant charm necklace combines simplicity and style and can be worn day in, day out.
The classic link necklace has a simple clasp which makes it easy to do up and undo. Each charm is made with the love and care we put into each piece of jewellery, making these timeless accessories which will last you a lifetime.
Material: Sterling Silver
Charm Size: Approx W8mm x H8mm x D5mm
Chain: 18" Prince of Wales Chain
Packaging: Luxury Hand on Heart Gift Box
*Notes about fingerprints: Children develop fingerprints at different ages. We recommend fingerprint jewellery for children over the age of 12 months, older children and adults. For children under 12 months, we recommend our hand and footprint range. Our designers work with a section of the fingerprint to capture the unique detail in every print and create a unique high-quality finish.
When you complete your order, we'll ask you how you would like to supply us with the prints. If you don't have the prints, we can provide a FREE print kit if selected with your order. The kit is very simple and involves wiping a special wipe over the selected area and pressing onto the paper included in the pack. There's no ink, putty or mess involved and the whole process takes just seconds.
Once you have taken the prints, or if you already have a copy of the prints, simply take a photo and upload them using our Magic Print Uploader - A link will be sent to you after you order.
If you're a returning customer we will ask you to provide us with the previous order number so that we can use the prints on file.
Customer Reviews
Write a Review
Ask a Question
06/08/2020
Danielle L.
United Kingdom
Beautiful
I absolutely love my necklace. I was a bit worried how the prints would turn out - a dog and a 5 year old who both barely stay still, but they look amazing. The HoH team have done a fantastic job cleaning them up. The necklace came beautifully packaged and I could not be happier. The engraving is perfect and easy to read. I contacted the HoH team before placing my order and they were so helpful and quick to respond. I will definitely be ordering more in the future.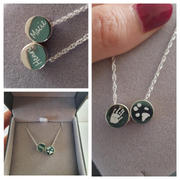 25/08/2020
Hand on Heart Jewellery
Ah, thank you for this lovely feedback and for sharing this photo, what lovely prints :) The best possible feedback we can receive is that you had a great experience with us and we would like to thank you for your feedback and for choosing Team HoH to create your special piece of jewellery. Team HoH x
21/07/2020
Kayleigh W.
United Kingdom
Replacement
The past 2 necklaces I have purchased from here have been nothing but perfect. My new necklace had broken and I was sent a replacement immediately. Fantastic communication. Thank you for the amazing service. Only necklace I have worn and I always get compliments.
23/07/2020
Hand on Heart Jewellery
Thank you so much for writing to us with this lovely feedback, we are, of course, very sorry that you had some issues with your necklace but would like to thank you for allowing us to rectify this for you :) Kind Regards, Team HoH x
14/07/2020
Meagan P.
United Kingdom
Excellent and very professional service
I absolutely love my necklace, the handprint charms are stunning. The service was very professional and always helpful.
07/08/2020
Hand on Heart Jewellery
It was an absolute pleasure creating your unique keepsake for you and we are so pleased to hear how delighted you are with your special HoH piece and our service. Kind Regards, Team HoH x
11/06/2020
Niamh W.
United Kingdom
Beautiful necklace
Excellent service. My necklace is beautiful and features my baby son's handprint and footprint. I had his name and date of birth engraved on the back. Arrived in a lovely box.
12/06/2020
Hand on Heart Jewellery
Thank you for the great feedback. We are delighted to hear how happy you are with your unique keepsake and our customer service. Kind regards, Team HoH
14/04/2020
Tasha A.
United Kingdom
Prints have started to come off and it's scratched
Wouldn't recommend buying this, it had marks on it once it arrived and the prints are coming off and scratched. Arrived after lockdown and I've been inside due to lockdown so no real use of item and still damaged.
03/06/2020
Hand on Heart Jewellery
Thank yuo for contacting our studio with your feedback. We are very sorry to hear that you are unhappy with your necklace and would love to offer a resolution to this issue. If you would please be so kind as to contact us on studio@handonheartjewelley.co.uk a member of the team will be more than happy to help, Thank you in advance, Team HoH x