Hand on Heart Jewellery
Family Necklace, Four Pawprint Charms
Carry a memento of your loved ones close to your heart at all times with this beautiful sterling silver Hand on Heart Family Necklace. We engrave each charm with the pawprint of your loved one, working from prints of any age and any size. The reverse side of each charm can be engraved with a name. This charm necklace is the ideal way to celebrate your growing family, as you can add further charms with every new addition or milestone.
You can choose to supply us with prints you may already have or we can send you our Magic Printing Kit to use at home. Once you've returned your prints to us, we miniaturise them whilst preserving even the finest details, before they are etched into your charm.
Crafted from the highest quality sterling silver, this family necklace is the ideal way to start your Hand on Heart jewellery collection, which can grow with you over time. Whether it's to welcome and celebrate a new arrival or to mark a milestone birthday, this elegant charm necklace combines simplicity and style and can be worn day in, day out.
The classic link necklace has a simple clasp which makes it easy to do up and undo. Each charm is made with the love and care we put into each piece of jewellery, making these timeless accessories which will last you a lifetime.
Material: Sterling Silver
Charm Size: Approx W8mm x H8mm x D5mm
Chain: 18" Prince of Wales Chain
Packaging: Luxury Hand on Heart Gift Box
*Notes about fingerprints: Children develop fingerprints at different ages. We recommend fingerprint jewellery for children over the age of 12 months, older children and adults. For children under 12 months, we recommend our hand and footprint range. Our designers work with a section of the fingerprint to capture the unique detail in every print and create a unique high-quality finish.
When you complete your order, we'll ask you how you would like to supply us with the prints. If you don't have the prints, we can provide a FREE print kit if selected with your order. The kit is very simple and involves wiping a special wipe over the selected area and pressing onto the paper included in the pack. There's no ink, putty or mess involved and the whole process takes just seconds.
Once you have taken the prints, or if you already have a copy of the prints, simply take a photo and upload them using our Magic Print Uploader - A link will be sent to you after you order.
If you're a returning customer we will ask you to provide us with the previous order number so that we can use the prints on file.
Customer Reviews
Write a Review
Ask a Question
17/06/2020
Rebekah G.
United Kingdom
Simply gorgeous
Myself and a group of friends placed an order with Hand on Heart during COVID-19 when they were unfortunately closed to get a printed necklace for a friend who's dog sadly passed after being in the family for many years. When they reopened, we were pleasantly surprised at the quick turnaround of the necklace. It was absolutely stunning and a beautiful tribute. Our friend was really moved. Thank you!
11/03/2020
Catherine P.
United Kingdom
Fab
Lovely item when it arrived. I was worried that the paw print wasn't going to be useable but got confirmation it was fine and the necklace was received a couple of weeks later. Good communication. Would be good if the pack came with a couple of attempts for those of us with very large dogs I could only fit a couple of attempts on the paper as her paws are so big.
26/03/2020
Hand on Heart Jewellery
Thank you for choosing us to create this special necklace for you and for your wonderful feedback <3 We would also like to thank you for your feedback and we will certainly pass this on to our team, Kind Regards, Team HoH x
26/01/2020
Tara w.
United Kingdom
Fabulous
My daughter bought me the double paw print necklace for my birthday after I bought hubby the paw print key ring for Christmas. I absolutely love it and now have a treasured memento of my fur babies to keep forever. Will look at getting another bead put on later on in the year when my first grandchild is born . Can't wait
06/02/2020
Hand on Heart Jewellery
Ah how lovely to hear <3 We hope you had a fantastic birthday and are so pleased to hear how much you love your unique necklace! We will look forward to welcoming you back when your new arrival is here :) Kind Regards, Team HoH x
24/01/2020
Mandy M.
United Kingdom
Pawprint Necklace
A surprise for my daughter those at hand on heart jewellery made the ordering process so easy using prints already had on file from a previous order. We all love our necklaces
06/02/2020
Hand on Heart Jewellery
Ah, how lovely to hear <3 Thank you for choosing us to create these special necklaces! Kind Regards, Team HoH x
29/11/2019
Beckie W.
United Kingdom
Purrfect
Absolutely beautiful and your staff were so helpful answering questions and recommending items. Thankyou so much, I wouldn't hesitate to buy from you again.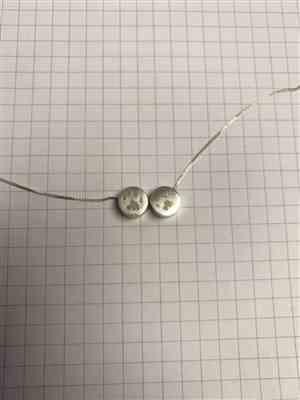 05/12/2019
Hand on Heart Jewellery
Ah that's so lovely to hear :) Thank you for your kind words, we are delighted to hear how happy you are with your necklace <3 Merry Christmas, Team HoH x