Handonheartjewellery
Memorial Fingerprint Keyring
A piece of jewellery to love for a lifetime, this Keyring features the true fingerprint of your loved one and is the perfect memorial keepsake. The oval-shaped tag is crafted from sterling silver and can be engraved with a special message on the reverse. You can supply us with prints that you may already have, or request a free Magic Printing Kit when you order if required. This piece is from our Premium Imprint Range which means that the prints are imprinted into the silver rather than engraved onto the surface. This design comes with a lifetime no-fade guarantee ensuring that your piece will last a lifetime if looked after. Your finished piece of Jewellery will come beautifully presented in a Hand on Heart Jewellery Box and delivered to your door.
Material:
Charm - Sterling Silver
Keyring Fitting - Stainless Steel
Charm Size: Approx W17 x H22mm
Packaging: Luxury Hand on Heart Jewellery Gift Box
 The full fingerprint is used on this piece, and the amount of detail that is seen on the jewellery will vary depending on the fingerprint supplied.
When you complete your order, we'll ask you how you would like to supply us with the prints. You can either use prints that you may already have, or we will provide a Free print kit if selected with your order. The kit is very simple and involves a special ink strip to take the fingerprint. There's no putty involved and the process takes just seconds. Return your fingerprint to us using the free return envelope provided with the fingerprint kit.
Once we receive your prints, we will keep you updated on the progress of your order. If you're a returning customer we will ask you to provide us with the previous order number so that we can use the prints on file.
Customer Reviews
Write a Review
Ask a Question
11/09/2020
Kim W.
United Kingdom
Gorgeous but tiny
My fingerprint keyring is gorgeous, the craftsmanship is beautifully done but I was expecting it to be fingerprint sized, I know I should have read the description better, it does give sizes but I did just think it would naturally be that I could put my finger in the print and I would be with my husband, especially for the price, it is very expensive for such a tiny keyring, so as beautiful as it is I am so disappointed it wasn't what I thought it would be.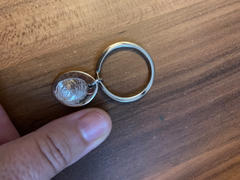 16/09/2020
Hand on Heart Jewellery
Thank you for taking the time to write to us with your feedback which is very much appreciated and will be passed on to our design team. We are so sorry that your key ring is not as you expected, we do try to clearly list all product details to avoid any disappointment. When creating these special memorial pieces our team do try to use the full fingerprint to keep it as close to the true print as possible but we do need to size the print down slightly to fit onto each piece. It is lovely to hear how pleased you are with the craftsmanship of this unique piece. Of course, if you do wish to discuss your order any further please do not hesitate to contact our team on studio@handonheartjewellery.co.uk. Kind Regards, Team HoH x
31/08/2020
Ines W.
United Kingdom
Better than expected
A beautiful item. If gold products were available we would buy those too.
22/11/2019
Tracey B.
United Kingdom
Innovative idea, quality product.
I am delighted with the keyring and excited to be giving it to my daughter on her 30th birthday as a memento of her much loved Grandmother. Thank you.
29/11/2019
Hand on Heart Jewellery
You are so very welcome, thank you for choosing Hand on Heart to create such a special gift for your Daughter in memory of her Grandmother, we really hope that she loves her unique keepsake <3 Kind Regards, Team HoH x
Thank you so much!
I ordered 2 of these; one for me and one for my mum, after my dad passed away suddenly in July 2019. The team were amazing in helping me choose the right product, and the end result was beautiful. We now feel we have a piece of my dad with us where ever we go. Thank you for the care taken! xx
09/10/2019
Hand on Heart Jewellery
Thank you for your extremely kind feedback. Here at Hand on Heart, we pride ourselves on providing our customers with the very best customer service and high-quality products and so it really is wonderful to hear how delighted you are with our service. Although it is the saddest of circumstances, we are pleased to have been able to create you an extremely precious keepsake in memory of your Dad, which we hope will bring some comfort following your loss <3 Kind regards, TeamHoH x