Handonheartjewellery
Memorial Round Fingerprint Bracelet
The bracelet that you'll never want to be without, the Round Fingerprint Bracelet is carefully imprinted with your loved ones true fingerprint. The round charm is crafted from sterling silver and the reverse of the charm can be engraved with a name or date. You can supply us with prints that you may already have, or request a free Magic Printing Kit when you order if required. This bracelet is from our Premium Imprint Range which means that the prints are imprinted into the silver rather than engraved onto the surface. This design comes with a lifetime no-fade guarantee ensuring that your piece will last a lifetime if looked after. Your finished piece of Jewellery will come beautifully presented in a Hand on Heart Jewellery Box and delivered to your door.
Material: Sterling Silver 
Charm Size: Approx 15mm
Bracelet: 18-20cm adjustable belcher bracelet
Packaging: Luxury Hand on Heart Jewellery Gift Box
The full fingerprint is used on this piece, and the amount of detail that is seen on the jewellery will vary depending on the fingerprint supplied.
When you complete your order, we'll ask you how you would like to supply us with the prints. You can either use prints that you may already have, or we will provide a Free print kit if selected with your order. The kit is very simple and involves a special ink strip to take the fingerprint. There's no putty involved and the process takes just seconds. Return your fingerprint to us using the free return envelope provided with the fingerprint kit.
Once we receive your prints, we will keep you updated on the progress of your order. If you're a returning customer we will ask you to provide us with the previous order number so that we can use the prints on file.
Customer Reviews
Write a Review
Ask a Question
08/09/2020
Lynn W.
United Kingdom
26/06/2020
Alison W.
United Kingdom
Special bracelet
I couldn't be happier with this bracelet - it is absolutely stunning and the picture on the website doesn't do it justice. My gran passed away earlier this year and I feel like I have a part of her with me whenever I wear it. The fingerprint has come out so much better than I could've hope for; the design team have done an outstanding job. The customer service of Hand on Heart is second-to-none – always so helpful whenever I emailed and prompt replies. It made the whole process a pleasure. I can't thank the HoH team enough for making such a special and treasured piece of jewellery. I'm recommending you to everyone!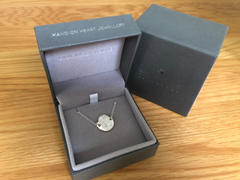 22/12/2019
Kristina
United Kingdom
Beautiful bracelet
A perfect reminder of my beloved Granndad. Lucy's customer service was outstanding.
13/01/2020
Hand on Heart Jewellery
Thank you so much for your kind feedback. Every order really is created with great care and consideration and so it really is lovely to hear this is seen by our valued customers. Kind Regards, Team HoH x