Handonheartjewellery
Handprint or Footprint Round Charm Bead, One Print and Name
A charm to love for a lifetime, this gorgeous Charm Bead features your loved one's true hand or footprints. Compatible with popular bracelets from Pandora, Chamilia, Troll and Lovelinks and created from beautiful sterling silver, one side of the charm is created with a hand or footprint and the other side is imprinted with your loved one's name. You can either supply us with prints that you may already have, or request a free Magic Printing Kit when you order. This charm is from our Premium Imprint Range which means that the prints are imprinted into the silver rather than engraved onto the surface. This design comes with a lifetime no-fade guarantee ensuring that your piece will last a lifetime if looked after. Your finished piece of Jewellery will come beautifully presented in a Hand on Heart Jewellery Box and delivered to your door.
Material: Sterling Silver
Charm Size: Approx W10mm x D8mm
Packaging: Luxury Hand on Heart Gift Box and a copy of the original prints used to create your design
When you complete your order, we'll ask you how you would like to supply us with the prints. If you don't have the prints, we can provide a FREE print kit if selected with your order. The kit is very simple and involves wiping a special wipe over the selected area and pressing onto the paper included in the pack. There's no ink, putty or mess involved and the whole process takes just seconds.
Once you have taken the prints, or if you already have a copy of the prints, simply take a photo and upload them using our Magic Print Uploader - A link will be sent to you after you order.
If you're a returning customer we will ask you to provide us with the previous order number so that we can use the prints on file.
Please see current delivery timescales under the product options. 
Hand, Foot, Paw and Fingerprint Designs: If you require a printing kit to take the prints, this will be delivered to you within 5 working days from placing your order. 
Customer Reviews
Write a Review
Ask a Question
10/02/2020
Kayla H.
United Kingdom
Nice but disappointed
I have three of these charms, they are nice and very special but I have to say that I'm disappointed in the quality. I had only been wearing the charms on my bracelet for less than a week and they already developed wear/scratches where they rubbed together on the bracelet. I emailed hand on heart about it with a photo and they replied saying it looked like expected wear and tear especially if I wasn't using spacers in my braclet. So I had to buy spacers in order to feel comfortable wearing them. I'm sorry, but that is just not the quality I would expect for charms which are £115 each, especially as none of my pandora charms have any such wear without using spacers. Also, the third charm I ordered at a different time than the first two (first two were a Christmas present and third one ordered on Boxing Day) and the quality of the fine details in the handprint aren't as good in the third charm, which was also disappointing.
17/02/2020
Hand on Heart Jewellery
Thank you for taking the time to write to us with this feedback, we are very sorry to hear that you are not happy with your special beads or the service which you have received from our team. As discussed over email, Sterling Silver is quite a soft metal and as with any metal, wear and tear should be expected when a piece is loved and worn on a regular basis. As our jewellery is polished to a mirror shine before it leaves us, any markings can be a little alarming in the first few days of wear, as, against the faultless finish of your brand new piece any duller areas can look very prominent. This is nothing to be concerned about and after a few weeks of daily way these areas will start to blend with the rest of the item and will not take away from its beauty at all. With regards to the detail within the print on your bead, we are not able to find any correspondence about this but if you would like to contact our team to discuss this further, you can do so over email on studio@handonheartjewellery.co.uk. Kind Regards, Team HoH x
29/06/2019
Louise H.
United Kingdom
Lovely gift
Brought as a 60th birthday present for my mum with my daughter footprint and handprint on there. My mum absolutely loved it! It's a beautiful charm. Unfortunately I then discovered it didn't actually fit on her lovelinks bracelet - obviously didn't read it properly in the first place. Not too big an issue as mum is going to treat herself to a Pandora necklace to put it on, just a bit disappointing it didn't fit her bracelet..Still ordered another one for me though!
01/07/2019
Hand on Heart Jewellery
Thank you for taking the time to write to us with your feedback, all feedback from our customers is hugely appreciated. I am sorry to hear that your charm did not fit onto the bracelet it was intended to be worn on, I have looked into this and our range of charms should be compatible with standard Lovelinks bracelets. If you would like to contact our team about this on studio@handonheartjewellery.co.uk we would be more than happy to look into this for you! Thank you in advance, Team HoH x
24/06/2019
Karen D.
United Kingdom
Amazing customer service throughout, I love my beads too!
The team at Hand on Heart we're sooo friendly and helpful during the design stages - and even when I had a small query that I was hesitant to ask I need not have been - they were patient and validated every query in such a positive way! I also love my beads, I've worn them every day and they always get lovely comments from fellow mums! Love, love, love! Thank you Hand on Heart!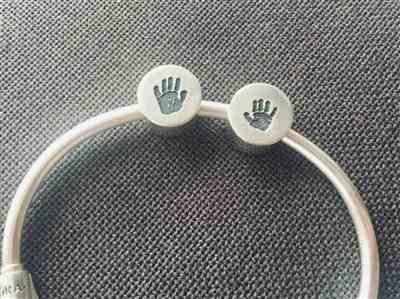 25/06/2019
Hand on Heart Jewellery
You are so very welcome :) Thank you for leaving this amazing feedback! Here at Hand on Heart, we pride ourselves on providing our customers with the very best customer service and so it really is great to hear how delighted you are with our service. Kind Regards, Team HoH x