Handonheartjewellery
Fingerprint Leather Bracelet, One Charm
The gift that will mean the world to him, this stunning Leather Bracelet is created from the true fingerprint detail of his loved one. Available in a choice of colours, the bracelet closes with a stainless steel push clasp. The charm is created from sterling silver and features the fingerprint you supply. Taking the prints couldn't be easier with our Magic Printing Kit sent to you free when you order, or we can use a copy of prints that you may already have. This bracelet is from our Premium Imprint Range which means that the prints are imprinted into the silver rather than engraved onto the surface. This design comes with a lifetime no-fade guarantee ensuring that your piece will last a lifetime if looked after. Your finished piece of Jewellery will come beautifully presented in a Hand on Heart Jewellery Box and delivered to your door.

Material: Sterling Silver
Charm Size: Approx. 14mm wide
Bracelet: Leather Bracelet (5mm thickness) with stainless steel push pin clasp
Packaging: Luxury Hand on Heart Gift Box and a copy of the original prints used to create your design
Notes about fingerprints: Children develop fingerprints at different ages. We recommend fingerprint jewellery for children over the age of 12 months, older children and adults. For children under 12 months, we recommend our hand and footprint range. Our designers work with a section of the fingerprint to capture the unique detail in every print and create a unique high-quality finish.
When you complete your order, we'll ask you how you would like to supply us with the prints. You can either use prints that you may already have, or we will provide a Free print kit if selected with your order. The kit is very simple and involves a special ink strip to take the fingerprint. There's no putty involved and the process takes just seconds. Return your fingerprint to us using the free return envelope provided with the fingerprint kit.
Once we receive your prints, we will keep you updated on the progress of your order. If you're a returning customer we will ask you to provide us with the previous order number so that we can use the prints on file.
Customer Reviews
Write a Review
Ask a Question
03/04/2020
Kate S.
United Kingdom
I don't want to take it off!
I had such lovely customer service when I called to order my bracelet, everything was very friendly and explained fully. I received progress updates when it was being made and shipped etc. I was made to feel like the company really care about making me the perfect memorial to my partner. When it arrived the quality of the work was wonderful. The bracelet itself is lovely looking and extremely well made. My partners fingerprint is clear and I love wearing it - I feel like his hand is on my arm to guide and support me. I am required to remove it for work a couple of times a day, and the clasp is easy to work and no trouble at all to snap on and off. I'm so glad I found this company as a way to remember him, it is something he would have loved and wanted me to have with me.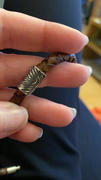 19/02/2020
Sue T.
United Kingdom
High quality bracelet
The ordering and delivery service for this product was excellent and my husband was happy with the bead design, which was taken from a fingerprint from our son before his ***** donation operation. He was slightly disappointed however as he found that it moved too readily on the bracelet so was difficult to keep it on show - this was mainly because the width of the bead was too wide for the leather bracelet so shifted around out of sight. My daughter was able to add some leather lace to hold this in place but might be worth considering for future designs.
06/03/2020
Hand on Heart Jewellery
Thank you for taking the time to write to us with this feedback, we are so very sorry to hear of your loss and would like to thank you for choosing us to create such a special piece of jewellery. We will certainly pass on your comments to our management and design teams for consideration but please do not hesitate to contact us if we can be of any further help at all, Kind Regards, Team HoH x
29/01/2020
Hazel S.
United Kingdom
Present for brother
Excellent from start to finish and product really good quality
10/02/2020
Hand on Heart Jewellery
Thank you so much for this lovely feedback <3 Kind Regards, Team HoH x
13/01/2020
Andrew P.
United Kingdom
Fingerprint Leather Bracelet
This was a present to my son with two fingerprints of his two sisters. He really likes it.
31/01/2020
Hand on Heart Jewellery
It is wonderful to hear how well this gift was received and we would like to thank you for choosing us to create this bracelet for your Son. Kind Regards, Team HoH x
04/12/2019
Kerry-Dee H.
United Kingdom
Phenomenal product and service throughout
Absolutely perfect, couldn't fault it at all. Would definitely order from here again!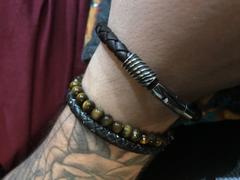 14/12/2019
Hand on Heart Jewellery
It was an absolute pleasure creating your unique keepsake for you and we are so pleased to hear how delighted you are with your special HoH piece, we shall look forward to welcoming you back as a repeat customer in the future! Kind Regards, Team HoH x