Handonheartjewellery
Fingerprint Heart Ring, One Print
Made to love forever, this Fingerprint Heart Ring is created using the true fingerprint of your loved one. Crafted from sterling silver, the ring is imprinted with the fingerprint detail and made to the size of your choosing. You can either supply us with prints that you may already have, or request a free Magic Printing Kit when you order. This ring is from our Premium Imprint Range which means that the prints are imprinted into the silver rather than engraved onto the surface. This design comes with a lifetime no-fade guarantee ensuring that your piece will last a lifetime if looked after. Your finished piece of Jewellery will come beautifully presented in a Hand on Heart Jewellery Box and delivered to your door. 

Material: Sterling Silver
Size: Heart Approx 15mm x 12mm
Half sizes are available upon request
Packaging: Luxury Hand on Heart Gift Box and a copy of the original prints used to create your design
Notes about fingerprints: Children develop fingerprints at different ages. We recommend fingerprint jewellery for children over the age of 12 months, older children and adults. For children under 12 months, we recommend our hand and footprint range. Our designers work with a section of the fingerprint to capture the unique detail in every print and create a unique high-quality finish.
When you complete your order, we'll ask you how you would like to supply us with the prints. You can either use prints that you may already have, or we will provide a Free print kit if selected with your order. The kit is very simple and involves a special ink strip to take the fingerprint. There's no putty involved and the process takes just seconds. Return your fingerprint to us using the free return envelope provided with the fingerprint kit.
Once we receive your prints, we will keep you updated on the progress of your order. If you're a returning customer we will ask you to provide us with the previous order number so that we can use the prints on file.
Customer Reviews
Write a Review
Ask a Question
06/02/2020
Elysha I.
United Kingdom
Just perfect!
I've wanted this heart shaped fingerprint ring for quite a while and all I can say is it was definitely worth the wait. The process of getting the fingerprints and sending them off was simple, communication throughout order/production was great and the finished ring is everything I'd hoped for. The ring is stunning and my little boys fingerprint is crafted into the silver in such fine detail. I just love it!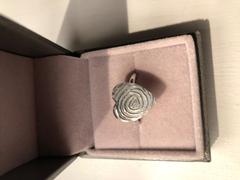 18/02/2020
Hand on Heart Jewellery
The best possible feedback we can receive is that you had a great experience with us and we would like to thank you for your feedback and for choosing Team HoH to create your special piece of jewellery using your Son's fingerprint Kind regards, Team HoH x
30/01/2020
Kelly P.
United Kingdom
Beautiful special ring
My whole experience of ordering and receiveing my beautiful special ring is amazing and first class. I have told so many people about Hand on Heart im even thinking about another piece of jewellery. Brilliant
10/02/2020
Hand on Heart Jewellery
Wow, thank you so much! We are so pleased to have been able to create this special piece of jewellery for you and we will look forward to welcoming you back in the future. Kind Regards, Team HoH x
15/07/2019
Lucy G.
United Kingdom
heart was wonky and they refused to fix
I loved the fingerprints but was totally let down by the end result and the customer service. The heart was wonky so the band has to sit diagonally on my finger for the heart to be straight. I sent the ring back and they refused to fix it saying they couldnt guarantee the heart would be 100% straight. i didnt want it to be 100% straight i just wanted a wearable ring which i dont think is too much to ask when you are paying £150.
15/07/2019
Hand on Heart Jewellery
Thank you for taking the time to leave your review, we really are very sorry that you were unhappy with your special ring and the service which was offered by our customer service team. Here at Hand on Heart, we pride ourselves on providing our customers with the very best customer service and high-quality hand made jewellery and we apologise that you feel this is not the case. I can see that you have been in contact with a member of our team previously regarding your order and a conclusion to this issue was reached at the time, however, if you would like to discuss any issues with your jewellery further, please do not hesitate to contact us on studio@handonheartjewellery.co.uk and our customer service team will be more than happy to help however we can. Kind Regards, Team HoH.
26/06/2019
Shazia S.
United Kingdom
I am so happy with
I am so happy with the ring the service from hand on your heart jewellery was excellent and they kept me informed throughout.
27/06/2019
Hand on Heart Jewellery
Thank you for the great feedback. We are delighted to hear how happy you are with your unique keepsake and our customer service. Kind regards, Team HoH