Handonheartjewellery
Handprint Or Footprint Leather Bead Bracelet, Two Charms
Keep them close forever with this stunning Leather Bead Bracelet, featuring the true Handprints or Footprints of his loved ones. Available in a choice of colours, the bracelet closes with a stainless steel push clasp. Each sterling silver bead features one handprint or footprint and a name. You can either supply us with prints that you may already have, or request a free Magic Printing Kit when you order. This bracelet is from our Premium Imprint Range which means that the prints are imprinted into the silver rather than engraved onto the surface. This design comes with a lifetime no-fade guarantee ensuring that your piece will last a lifetime if looked after. Your finished piece of Jewellery will come beautifully presented in a Hand on Heart Jewellery Box and delivered to your door. 
Material:
Sterling Silver
Charm Size:
Approx. 14mm wide

Bracelet:
Leather Bracelet (5mm thickness) with stainless steel push pin clasp
Packaging:
Luxury Hand on Heart Gift Box and a copy of the original prints used to create your design
When you complete your order, we'll ask you how you would like to supply us with the prints. If you don't have the prints, we can provide a FREE print kit if selected with your order. The kit is very simple and involves wiping a special wipe over the selected area and pressing onto the paper included in the pack. There's no ink, putty or mess involved and the whole process takes just seconds.
Once you have taken the prints, or if you already have a copy of the prints, simply take a photo and upload them using our Magic Print Uploader - A link will be sent to you after you order.
If you're a returning customer we will ask you to provide us with the previous order number so that we can use the prints on file.
Customer Reviews
Write a Review
Ask a Question
13/08/2020
Lisa C.
United Kingdom
Good, detailed imprint but disappointing loss of quality
I purchased this bracelet 3 years ago with a bead featuring the hand print of our first born son as a present for my partner. We were both extremely impressed and happy with the detail and quality. Therefore following the recent birth of our second son i ordered a second bead to be added with our newborn's hand print as a birthday present to my partner. The customer service throughout the process has been brilliant and i was advised upfront that owing to changes to the creation processes the new bead would not match exactly in shape or size but would be of the highest standard and completely individual and unique. Whilst the imprint is detailed and clear I am afraid we are disappointed in the overall quality of the bead. As a previous reviewer has commented, the new version does look cheaper in comparison. This new version looks like a computer etched print on a thinner, uniform, mass produced bead rather than the almost hand made, thicker, more solid and unique bead produced previously. Sitting alongside the older bead the new bead does look noticeably cheaper. A real shame, especially given the cost of the new bead was almost as much as the full bracelet!
27/07/2020
Gail M.
United Kingdom
Paw prints and thumb prints
Good and easy, pity one of the paw prints is upside down.
12/08/2020
Hand on Heart Jewellery
Thank you for taking the time to leave this feedback, we are so sorry to hear that your bracelet is not quite right and we would love to resolve this for you! If you would please be able to send our team a photo of the incorrect bead to studio@handonheartjewellery.co.uk so that we can look into this further. Thank you in advance, Team HoH x
17/06/2020
Lindsey D.
United Kingdom
Beautifully Perfect
Wonderful experience, nothing was too much trouble for the team, even during this strange time. They already had our daughter's handprint from a previous order just after she had passed away. I wanted to add our son's to a bracelet for my partner. It's so special to have both their handprints together, thank you so so much to the team. I would recommend in a heartbeat.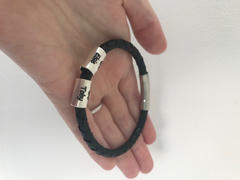 17/02/2020
Ketevan B.
United Kingdom
Very nice, but earlier model was much better
Around 3 years ago, I ordered very similar one from Hand on Heart for my husband, he still wears it everyday and loves it. That one is really nice, but this changed model which we ordered for our friend who just got a baby is kind of a cheaper version and does not look as good as the one ordered earlier.
06/03/2020
Hand on Heart Jewellery
Thank you for your kind feedback and generous repeat custom. You are correct in that over the last year we have significantly changed our creation processes to allow us to create imprinted jewellery to the very highest standard while still making each piece completely individual and unique. This has involved altering the way in which we impress the prints and text into the silver to ensure that they are as detailed, clear and hard-wearing as possible, however, this does mean that new pieces may not match original pieces exactly in terms of shape or size. We do hope this answers any questions you may have but please do not hesitate to get in touch if we can be of any further help, Team HoH x
27/01/2020
Sandy W.
United Kingdom
Fabulous!
What a fab little company! The products are a little pricey so I was a little nervous when buying however the quality and service is so so worth it! My husband loves his gift and I'm so pleased with the product as well as the packaging! Great company and will definitely be using again in the future!
06/02/2020
Hand on Heart Jewellery
Thank you so much for taking the time to leave this wonderful feedback, we are delighted to hear how pleased you were with your leather bracelet and that the gift was well received by your husband :) We will look forward to welcoming you back in the future. Kind Regards, Team HoH X