Handonheartjewellery
Pawprint Leather Bead Bracelet, One Charm
A beautiful keepsake bracelet, this Leather Bead Bracelet holds the true pawprint of his treasured pet. Available in a choice of colours, the bracelet closes with a stainless steel push clasp. The charm is created from sterling silver and features a pawprint on one side and a name on the reverse. Taking the prints couldn't be easier with our Magic Printing Kit sent to you free when you order, or we can use a copy of prints that you may already have. This bracelet is from our Premium Imprint Range which means that the prints are imprinted into the silver rather than engraved onto the surface. This design comes with a lifetime no-fade guarantee ensuring that your piece will last a lifetime if looked after. Your finished piece of Jewellery will come beautifully presented in a Hand on Heart Jewellery Box and delivered to your door. 
Material:
Sterling Silver
Charm Size:
Approx. 14mm wide

Bracelet:
Leather Bracelet (5mm thickness) with stainless steel push pin clasp
Packaging:
Luxury Hand on Heart Gift Box and a copy of the original prints used to create your design
When you complete your order, we'll ask you how you would like to supply us with the prints. If you don't have the prints, we can provide a FREE print kit if selected with your order. The kit is very simple and involves wiping a special wipe over the selected area and pressing onto the paper included in the pack. There's no ink, putty or mess involved and the whole process takes just seconds.
Once you have taken the prints, or if you already have a copy of the prints, simply take a photo and upload them using our Magic Print Uploader - A link will be sent to you after you order.
If you're a returning customer we will ask you to provide us with the previous order number so that we can use the prints on file.
Customer Reviews
Write a Review
Ask a Question
20/07/2020
Tony F.
United Kingdom
Loved the bracelet
Top quality item, well presented and packaged
07/08/2020
Hand on Heart Jewellery
Thank you, We are truly thankful for this lovely feedback. Team HoH x
09/04/2020
Christine H.
United Kingdom
Leather bracelet with Dog Paw print beads
Order arrived in good time. It is just lovely and my husband won't take it off. It is a comfort to him after the loss of our two beautiful dogs. He now has their paw prints with him all the time. I was so happy that you still had the paw prints on file for both our dogs from an order a few years ago. It means so much to be able to have this item made now they are no longer with us. Thank you so so much. We have our girls with us both for always. My husband has this lovely leather bracelet and I have the 2 beads on my Pandora bracelet that I had made a few years ago. You are all amazing. Thank you.
12/12/2019
Lucy A.
United Kingdom
Paw print bracelet
HOH provided excellent customer service and couldn't do enough for me. They were extremely quick to resolve an issue I had with the finish on my bracelet and we're very friendly and helpful on the phone. I ordered the same bracelet a few years ago. The quality of the previous bead was better as it was chunkier and the paw print more subtle. The current bead was very thin as they now use a lot less silver for the same price. I was slightly disappointed with it. The paw print was also darker. Overall a good experience though. It's just a bit of a shame that the quality of the bead wasn't as good as it used to be.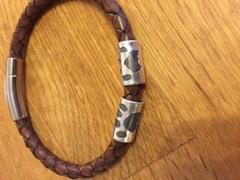 17/12/2019
Hand on Heart Jewellery
Thank you for taking the time to leave your kind feedback, we are very happy to hear how pleased you are with the service we were able to offer when creating your order. We are sorry to hear that you are not completely happy with your bead bracelet and if you would like to discuss the changes in our creation process over the past few years further with a member of our friendly customer service team, please do not hesitate to contact us on studio@handonheartjewellery.co.uk Kind Regards, Team HoH x
21/07/2019
Katie R.
United Kingdom
A*
Fantastic product, quick delivery, have used HOH before and will continue to do so. Cannot recommend them enough
24/07/2019
Hand on Heart Jewellery
Thank you so much for this amazing feedback and your kind recommendation. As with any business like ours the best possible advertising is word of mouth from a satisfied customer and so we cannot thank you enough for this. Kind Regards, Team HoH x