Handonheartjewellery
Handprint or Footprint Round Charm Bead, One Print and Name
A charm to love for a lifetime, this gorgeous Charm Bead features your loved one's true hand or footprints. Compatible with popular bracelets from Pandora, Chamilia, Troll and Lovelinks and created from beautiful sterling silver, one side of the charm is created with a hand or footprint and the other side is imprinted with your loved one's name. You can either supply us with prints that you may already have, or request a free Magic Printing Kit when you order. This charm is from our Premium Imprint Range which means that the prints are imprinted into the silver rather than engraved onto the surface. This design comes with a lifetime no-fade guarantee ensuring that your piece will last a lifetime if looked after. Your finished piece of Jewellery will come beautifully presented in a Hand on Heart Jewellery Box and delivered to your door.
Material: Sterling Silver
Charm Size: Approx W10mm x D8mm
Packaging: Luxury Hand on Heart Gift Box and a copy of the original prints used to create your design
When you complete your order, we'll ask you how you would like to supply us with the prints. If you don't have the prints, we can provide a FREE print kit if selected with your order. The kit is very simple and involves wiping a special wipe over the selected area and pressing onto the paper included in the pack. There's no ink, putty or mess involved and the whole process takes just seconds.
Once you have taken the prints, or if you already have a copy of the prints, simply take a photo and upload them using our Magic Print Uploader - A link will be sent to you after you order.
If you're a returning customer we will ask you to provide us with the previous order number so that we can use the prints on file.
Customer Reviews
Write a Review
Ask a Question
02/07/2020
SAMANTHA F.
United Kingdom
Perfect little gift!
Absolutely in love with my new and most meaningful charm! The level of detail put into something so small is incredible! Very happy with my purchase!
02/07/2020
Hannah W.
United Kingdom
Beautiful charms
A unique and special keepsake using my son's footprint and my daughter's handprint. Excellent customer service and a good deal with the buy one get one free offer.
10/06/2020
Caley R.
United Kingdom
Handprint charms
Hand on heart were amazing throughout the whole process as there was a delay due to covid-19. They explained everything & kept me informed all the way, then when I received the charms they were finished to a really high standard - it's the reason I came back to use them again! Many thanks :)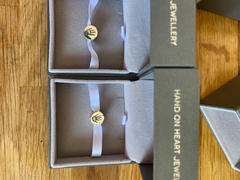 12/06/2020
Hand on Heart Jewellery
Here at Hand on Heart, we pride ourselves on providing our customers with the very best customer service and so it really is great to hear how delighted you are with our service and your unique keepsakes :) Kind Regards, Team HoH x
10/03/2020
Mary A.
United Kingdom
Beautiful handprint and footprint charm
My experience was fab, order the charm, received the print pack. I could take the prints scanned them and sent them off. Received a message when they were being delivered. The charm arrived and it was absolutely beautiful and beautifully packed. I now have 3 beautiful children and I have 3 beautiful handprint and footprint charms one for each child. Thankyou :)
26/03/2020
Hand on Heart Jewellery
You are so very welcome, it was an absolute pleasure creating your unique keepsake for you and we are so pleased to hear how delighted you are with your special HoH piece and our service. Kind Regards, Team HoH x
10/03/2020
Andreia e.
United Kingdom
Defect and don't accept returns
"Hand on heart" found difficult to understand the problem that I was trying (several times) to described, unsuccessfully, I sent them some pictures to clarify the problem and get any solution (refund or a new item) basically I got a description of the problem from them of the pictures I send them!Sadly I don't feel comfortable of wearing that on my neck so I keep it inside of a box....Expensive for a defect present! I do not recommend to any of my friend or family
20/03/2020
Hand on Heart Jewellery
Hi Andrea, Thank you for taking the time to write to us with your feedback, we are very sorry to hear that you were unhappy with your bead and the service which we were able to offer. We are sorry that you do not feel happy wearing your unique bead, as per our correspondence, as this piece is created to be worn on a charm bracelet the bead is not weight at the bottom. Therefore, when being worn on a necklace chain as you have been, the bead may flip over showing the reverse print the incorrect way round. We would like to offer an apology for any confusion over the design of the piece and its compatibility at the time of purchase and would always ask for a customer to contact us prior to purchase if they are looking to wear their jewellery in a way not recommended by us so that we can look into alternative designs which you may be happier with. We do hope that you are able to wear your special piece on a bracelet in the future, if you would like to discuss compatible bracelet designs with our team please do not hesitate to get in touch on studio@handonheartjewellery.co.uk, Kind Regards, Team HoH x