Handonheartjewellery
Handprint Or Footprint Round Charm Necklace, Two Charms
The perfect way to keep them close. This stunning Round Charm Necklace features your loved ones true hand or footprints. Made from beautiful sterling silver, each charm is imprinted with a hand or footprint and the reverse is engraved with a message of your choice. You can either supply us with prints that you may already have, or request a free Magic Printing Kit when you order. This necklace is from our Premium Imprint Range which means that the prints are imprinted into the silver rather than engraved onto the surface. This design comes with a lifetime no-fade guarantee ensuring that your piece will last a lifetime if looked after. Your finished piece of Jewellery will come beautifully presented in a Hand on Heart Jewellery Box and delivered to your door.
Material: Sterling Silver
Charm Size: Approx W15mm x H15mm
Chain: 16-18" Adjustable belcher chain
Packaging: Luxury Hand on Heart Gift Box and a copy of the original prints used to create your design
When you complete your order, we'll ask you how you would like to supply us with the prints. If you don't have the prints, we can provide a FREE print kit if selected with your order. The kit is very simple and involves wiping a special wipe over the selected area and pressing onto the paper included in the pack. There's no ink, putty or mess involved and the whole process takes just seconds.
Once you have taken the prints, or if you already have a copy of the prints, simply take a photo and upload them using our Magic Print Uploader - A link will be sent to you after you order.
If you're a returning customer we will ask you to provide us with the previous order number so that we can use the prints on file.
Customer Reviews
Write a Review
Ask a Question
09/07/2020
Kevin S.
United Kingdom
Very nice but scratches too easily
The finished necklace was beautiful and arrived carefully packaged. Also the customer service has been excellent keeping me informed and offering solutions for issues with the order due covid related problems. Unfortunately I can only give a 3 star rating as the charms scratch too easily. It appears that the hand and foot imprints are too rough and so the charms scratch each other during wear. Even after just a few hours. For the price they cost I would not have expected this to happen. I love the necklace but it is already significantly scratched so I find myself limiting myself from wearing it, when really I want to be wearing it all the time. Also the necklace would benefit from having a bigger loop at the back to secure the clasp in. Twice already I thought I had hooked it in securely only to notice the necklace slipping down a couple hours later. Luckily on both occasions I did not loose the charms or the necklace.
07/08/2020
Hand on Heart Jewellery
Thank you for talking the time to contact us with your feedback. We are deeply sorry to hear you are disappointed with your personalised necklace as here at Hand on Heart, we provide ourselves on providing our customers with the very best high-quality products and we spend many hours researching our suppliers to ensure the materials we use are of the highest quality available. Every item of jewellery from our handcrafted range is polished to a high shine before being checked, packed and delivered to our customers. Sterling Silver is a delicate metal which does lose its mirror shine through everyday wear, I understand this can sometimes be a little alarming in the first few days of wear, as, against the faultless finish of your brand new piece any duller areas can look very prominent. This is nothing to be concerned about and after a few weeks of daily way these areas will start to blend with the rest of the item and will not take away from its beauty at all. If you do have any further questions at all please do feel free to contact our customer service team on studio@handonheartjewellery.co.uk, Team HoH x
08/07/2020
Lauren G.
United Kingdom
beautiful necklace
Fantastic quality necklace. There was a delay getting the necklaces due to a lack of parts but the communication and customer service was excellent. It has the handprints of my daughter who was stillborn and our rainbow. Its so special have the girls together and I can't wait to use it to talk to our little rainbow baby about her big sister.
07/08/2020
Hand on Heart Jewellery
Thank you for your extremely kind feedback. Here at Hand on Heart, we pride ourselves on providing our customers with the very best customer service and high-quality products and so it really is wonderful to hear how delighted you are with our service. Although it is the saddest of circumstances, we are pleased to have been able to create you an extremely precious keepsake in memory of your Daughter which we hope will bring some comfort following your loss <3 Kind regards, TeamHoH x
29/04/2020
Doris N.
United Kingdom
EXCELLEN CUSTOMER SERVICE
Brilliant service and communication. Quick delivery. Excellent will use again
12/06/2020
Hand on Heart Jewellery
Thank you so much for this amazing review :) Kind Regards, Team HoH x
13/04/2020
Sarah R.
United Kingdom
My most precious possession
The team were amazing in getting my necklace to me. I know it is said a lot but this necklace means the world to me, my mum is bravely going through a terminal cancer diagnosis and my dad sadly passed away recently. I wasn't able to get a perfect print but luckily the team were able to put my two prints together to make one! Great customer service and beautiful product I hold very close to my heart. Thank you for making this creation so I can still touch my dads hand every day.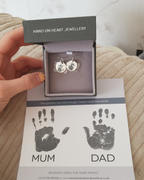 07/04/2020
Stephanie
United Kingdom
Love my new necklace
Absolutely in love with my new necklace, it's exactly what I was looking for. Everything from the ordering process through to sending the prints over was simple and easy to do. I am so happy I decided to use hand on heart to create such a special piece! I would not hesitate to use them again in the future!