Handonheartjewellery
Engraved Handprint Or Footprint Heart Necklace, Three Prints And Three Names
Keep them with you forever, this beautiful Hand or Footprint Necklace is created using your loved ones true prints. Made from sterling silver, this lovely necklace is engraved with two prints & two names on the front and with one print and one name on the reverse. You can either supply us with prints that you may already have, or request a free Magic Printing Kit when you order. This necklace is from our Engraved Range which means that the prints are engraved onto the surface of the charm and comes with a 12-month no-fade guarantee. Your finished piece of Jewellery will come beautifully presented in a Hand on Heart Jewellery Box and delivered to your door.
Material: Sterling Silver
Charm Size: Approx W20mm x H22mm
Chain: 16-18" Adjustable belcher chain
Packaging: Luxury Hand on Heart Gift Box
When you complete your order, we'll ask you how you would like to supply us with the prints. If you don't have the prints, we can provide a FREE print kit if selected with your order. The kit is very simple and involves wiping a special wipe over the selected area and pressing onto the paper included in the pack. There's no ink, putty or mess involved and the whole process takes just seconds.
Once you have taken the prints, or if you already have a copy of the prints, simply take a photo and upload them using our Magic Print Uploader - A link will be sent to you after you order.
If you're a returning customer we will ask you to provide us with the previous order number so that we can use the prints on file.
Customer Reviews
Write a Review
Ask a Question
Quality and great customer ser6
So thrilled with my necklace, the prints came out brilliant. Despite ordering during lockdown I was notified regularly. I will be ordering more
02/06/2020
Bethany S.
United Kingdom
Stunning!!
I ordered a beautiful necklace with my twin daughters footprints on who we sadly lost halfway into my pregnancy, it exceeded my expectations and i cant tell you how happy i was when i received the necklace, now i can have both my girls with me forever, thankyou so much.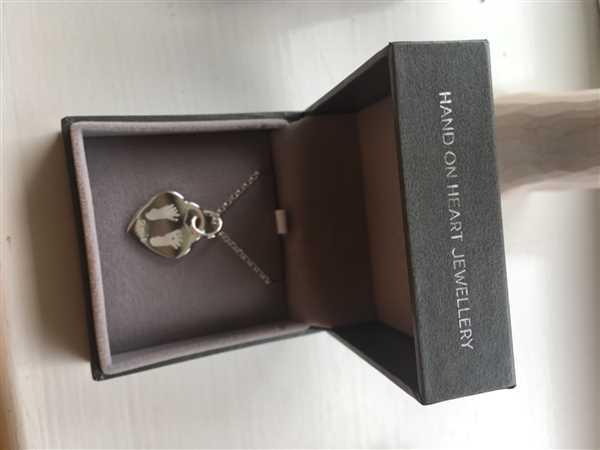 03/06/2020
Hand on Heart Jewellery
Thank you for choosing us to create such a very special piece of jewellery. It was a pleasure to create something which means so much and we are all delighted to hear how happy you are with your unique keepsake. Although in the saddest of circumstances, we hope that this jewellery brings some comfort in memory of your Daughters. Kind Regards, Team HoH x
22/04/2020
Chloe H.
United Kingdom
AW
20/04/2020
Amy W.
United Kingdom
Amazing pendant, awful chain
The engraved pendant is absolutely perfect. However I cannot wear it because the chain it comes on is covered in my hair where it is tangling around the chain and pulling out. This happens if my hair is both up or down as it catches on any hair it can and entangles instantly. I am in love with the pendant and would recommend but I would recommend people to buy it without a chain as I'm going to have to buy a chain elsewhere in order to wear this special item.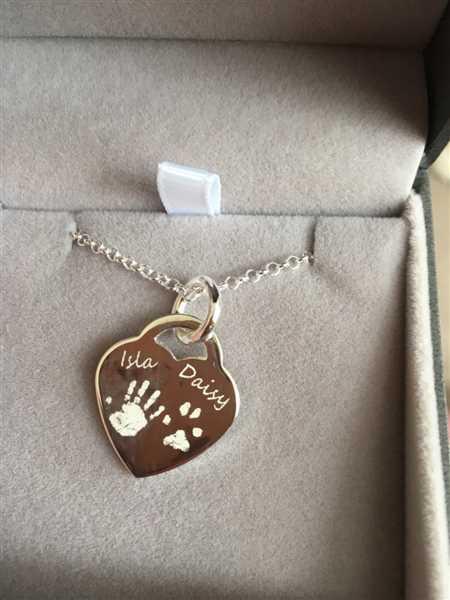 17/04/2020
Lewis B.
United Kingdom
Personalised item
Absolutely fantastic. Very helpful and great product. 100% recommend this company. Thankyou