Handonheartjewellery
Fingerprint Oval Cufflinks, One Print And Name
Keep them close forever with this set of beautiful Oval Cufflinks, featuring the true fingerprint of your loved one. Presented in a stunning keepsake box engraved with a personalised message of your choice, one cufflink is engraved with the fingerprint and the other is engraved with a name and date. You can either supply us with prints that you may already have, or request a free Magic Printing Kit when you order. This cufflink set is from our Engraved Range which means that the prints are engraved onto the surface of the piece and comes with a 12-month no-fade guarantee. Your finished piece of Jewellery will come beautifully presented in a Hand on Heart Jewellery Velvet Pouch and delivered to your door.

Size: Cufflink - H17mm x W17mm x D20mm 
Material:
Cufflink - Stainless Steel
Case - Chrome with a velvet insert
Packaging: Luxury Hand on Heart Velvet Gift Pouch
Notes about fingerprints: Children develop fingerprints at different ages. We recommend fingerprint jewellery for children over the age of 12 months, older children and adults. For children under 12 months, we recommend our hand and footprint range. Our designers work with a section of the fingerprint to capture the unique detail in every print and create a unique high-quality finish.
When you complete your order, we'll ask you how you would like to supply us with the prints. You can either use prints that you may already have, or we will provide a Free print kit if selected with your order. The kit is very simple and involves a special ink strip to take the fingerprint. There's no putty involved and the process takes just seconds. Return your fingerprint to us using the free return envelope provided with the fingerprint kit.
Once we receive your prints, we will keep you updated on the progress of your order. If you're a returning customer we will ask you to provide us with the previous order number so that we can use the prints on file.
Customer Reviews
09/12/2019
Sharon E.
United Kingdom
Fingerprint cuff links
I had my mums fingerprint put onto cuff links for my dad, the fingerprints were not that great from my mum but this company worked wonders with what they had, and I love them and I'm sure my dad will too. Fantastic service very quick and professional and very friendly and nothing is too much trouble. I would definitely recommend them I also know someone who had a bracelet made with her dads fingerprint and that also was beautiful.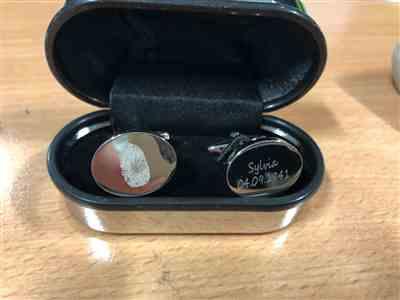 17/12/2019
Hand on Heart Jewellery
Thank you so much for choosing Hand on Heart Jewellery to create such a very special gift for your Dad, we are so happy to hear how pleased you are with your cufflinks and the service which we were able to offer. Here at HoH, customer service is of the utmost importance and we are over the moon that we were able to help create these for you noth. Kind Regards, Team HoH x
24/09/2019
Nicola A.
United Kingdom
Highly recommend, service fantastic and
Highly recommend, service fantastic and jewellery out of the world.
26/09/2019
Hand on Heart Jewellery
Thank you for your excellent feedback. It is wonderful to hear from a valued customer how pleased you were with our service and the finished jewellery. Kind regards, Team HoH x
22/07/2019
Amy B.
United Kingdom
Lovely cufflinks with meaning
I've purchased these cufflinks to give to give to my fiancé on our wedding day next year. The kit was very simple to use and I managed to get some really good prints with it. I uploaded a few options online for the design team to choose from, and the cufflinks were sent to me shortly afterwards. They arrived in a nice presentation box and look really good. I know my fiancé will really love wearing these - his cufflinks have the print of my wedding ring finger on them, and I will be wearing a bracelet with a print of his wedding ring finger on top. <3
24/07/2019
Hand on Heart Jewellery
Thank you for choosing Hand on Heart Jewellery to create such a very special piece of jewellery for your fiancé, we're over the moon to hear how happy you are with your jewellery and the ordering / print taking process. Sending our best wishes on your upcoming wedding <3 Team HoH x