Hand on Heart Jewellery
Family Necklace, Two Fingerprint Charms
Carry a memento of your loved ones close to your heart at all times with this beautiful sterling silver Hand on Heart Family Necklace. We engrave each charm with the handprint, footprint or fingerprint* of your loved one, working from prints of any age and any size. The reverse side of each charm can be engraved with a name. This charm necklace is the ideal way to celebrate your growing family, as you can add further charms with every new addition or milestone.
You can choose to supply us with prints you may already have or we can send you our Magic Printing Kit to use at home. Once you've returned your prints to us, we miniaturise them whilst preserving even the finest details, before they are etched into your charm.
Crafted from the highest quality sterling silver, this family necklace is the ideal way to start your Hand on Heart jewellery collection, which can grow with you over time. Whether it's to welcome and celebrate a new arrival or to mark a milestone birthday, this elegant charm necklace combines simplicity and style and can be worn day in, day out.
The classic link necklace has a simple clasp which makes it easy to do up and undo. Each charm is made with the love and care we put into each piece of jewellery, making these timeless accessories which will last you a lifetime.
Material: Sterling Silver
Charm Size: Approx W8mm x H8mm x D5mm
Chain: 18" Prince of Wales Chain
Packaging: Luxury Hand on Heart Gift Box
*Notes about fingerprints: Children develop fingerprints at different ages. We recommend fingerprint jewellery for children over the age of 12 months, older children and adults. For children under 12 months, we recommend our hand and footprint range. Our designers work with a section of the fingerprint to capture the unique detail in every print and create a unique high-quality finish.
When you complete your order, we'll ask you how you would like to supply us with the prints. You can either use prints that you may already have, or we will provide a Free print kit if selected with your order. The kit is very simple and involves a special ink strip to take the fingerprint. There's no putty involved and the process takes just seconds. Return your fingerprint to us using the free return envelope provided with the fingerprint kit.
Once we receive your prints, we will keep you updated on the progress of your order. If you're a returning customer we will ask you to provide us with the previous order number so that we can use the prints on file.
Customer Reviews
Write a Review
Ask a Question
30/06/2020
Kelly W.
United Kingdom
09/04/2020
Mr T.
United Kingdom
Family necklace, two fingerprint charm
Great experience from start to finish - very easy process. Great charm necklace and very well received.
02/01/2020
Esther M.
United Kingdom
Beautiful keepsake charms
Very pleased with the beautiful keepsakes bought for a birthday present. The process of taking the fingerprints and the return of the jewellery was straightforward and swift. The only improvement I would suggest would be to offer different lengths/ types of chain with the charms.
28/01/2020
Hand on Heart Jewellery
Thank you for taking the time to write to us with this feedback, we are delighted to hear that you had enjoyable experience ordering from us and taking the prints for your order. We would also like to thank you for your valuable feedback on chain lengths, we are always looking to expand our range and this will certainly be passed on to the relevant team. Kind Regards, Team HoH x
10/10/2019
Maria V.
United Kingdom
Exceptional service
I sent an email to see if the finger print of my Nan,who had passed away the day before, would work as the detail wasn't clear. Within an hour I had a reply to say it had be sent to the tech team and they had scanned it. The print was attached and t was brilliant. I ordered and item that day. I then emailed to say that I understood it would take up to 3 weeks but if I could have it before the funeral, in 2 weeks, I would be very grateful. Again, the reply was very prompt. I was told a note had been put on my order. The next morning I had an email to say the necklace had been dispatched. It arrived 5 days after I placed my order. The service was absolutely brilliant. So attentive and caring. The quality of the product was also fantastic. I can't thank you enough!
11/10/2019
Hand on Heart Jewellery
You are so very welcome, thank you for taking the time to leave this lovely feedback and for choosing Hand on Heart to create such a special necklace in memory of your Nan. It really is lovely to hear how pleased you are with the customer service we were able to offer, it is very important to us that each customer has an enjoyable and straightforward experience with us and so your review is hugely appreciated. Kind Regards, Team HoH x
18/09/2019
Joanne D.
United Kingdom
Finger print charm necklace
The fingerprints i had from my late grandparents were not the best so I feared they wouldn't work imprinted into a piece of jewellery-however after speaking to a member of the HOH team, they asked me to email them so they could be checked over by the design team. After such a short wait they got back to me and reassured me they would be able to use them! I was overjoyed by this news and they even sent me a mock design so I could see what it would look like prior to deciding wether to go ahead in purchasing.. needless to say I went ahead in ordering, then after receiving my necklace a short while after in the post I was over the moon to see that the necklace was so much better in the flesh! I love it so much. Thankyou HOH x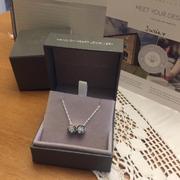 25/09/2019
Hand on Heart Jewellery
You are so very welcome, thank you for choosing us to create what is clearly such a special piece of jewellery in memory of your Grandparents <3 Customer service is of the utmost importance to us here at Hand on Heart and we are so happy to hear that we were able to reassure you before you placed an order with us and answer any questions which you had. Thank you again, Team HoH x