Handonheartjewellery
Handprint Or Footprint Heart Keyring, Three Prints And Three Names
Made to love forever, this beautiful Heart Keyring features the true handprints and footprints of your loved ones. Crafted from stainless steel, the front of the keyring is engraved with two prints and two names, the reverse is engraved with one print and a name. You can either supply us with prints that you may already have, or request a free Magic Printing Kit when you order. This keyring is from our Engraved Range which means that the prints are engraved onto the surface of the design and comes with a 12-month no-fade guarantee. Your finished piece of Jewellery will come beautifully presented in a Hand on Heart Jewellery Velvet Pouch and delivered to your door.
Material: Stainless Steel
Keyring Size: Approx H30mm W27mm D5mm
Packaging: Luxury Hand on Heart Velvet Gift Pouch
When you complete your order, we'll ask you how you would like to supply us with the prints. If you don't have the prints, we can provide a FREE print kit if selected with your order. The kit is very simple and involves wiping a special wipe over the selected area and pressing onto the paper included in the pack. There's no ink, putty or mess involved and the whole process takes just seconds.
Once you have taken the prints, or if you already have a copy of the prints, simply take a photo and upload them using our Magic Print Uploader - A link will be sent to you after you order.
If you're a returning customer we will ask you to provide us with the previous order number so that we can use the prints on file.
Customer Reviews
Write a Review
Ask a Question
16/09/2020
Kelly Y.
United Kingdom
Perfect
Bought as a gift that has not been given yet, but I'm so very happy with the key ring as I was with all the other items we have had from you. Such an amazing way of capturing memories and great service at all times. Can't recommend you enough. Many Thanks
13/08/2020
Daisy M.
United Kingdom
06/08/2020
Rebecca F.
United Kingdom
Beautiful
The keyring is absolutely beautiful, Granny was delighted! I couldn't believe what high quality it looks. Customer service was also amazing. Definitely recommend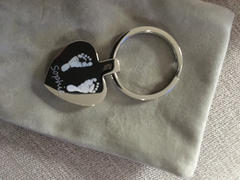 25/08/2020
Hand on Heart Jewellery
Thank you for the great feedback. We are delighted to hear how happy you are with your unique keepsake and our customer service. Kind regards, Team HoH
05/08/2020
Amber
United Kingdom
Beautiful piece
Beautiful peice ♥️ It's so nice to be able to have both sons handprints on one piece dispite one being 7 years old. Loved this so much I couldn't decided whether to put this on my keyring as it's so nice wouldn't want to risk loosing! Best prezzie
25/08/2020
Hand on Heart Jewellery
Thank you for choosing us to create this key ring for you, we're over the moon to hear how pleased you are with it :) Kind Regards, Team HoH x
21/07/2020
Lucia A.
United Kingdom
Love it!
Excellent. Bought it for my mum from the kids and she absolutely loves it. Thank you so much.
07/08/2020
Hand on Heart Jewellery
We are truly thankful for this lovely feedback, it is wonderful to hear how well this gift was received. Team HoH x